Premier LED Full Color Outdoor Displays
Custom Sizes in 10MM / 13.3MM / 16MM / 20MM Pitch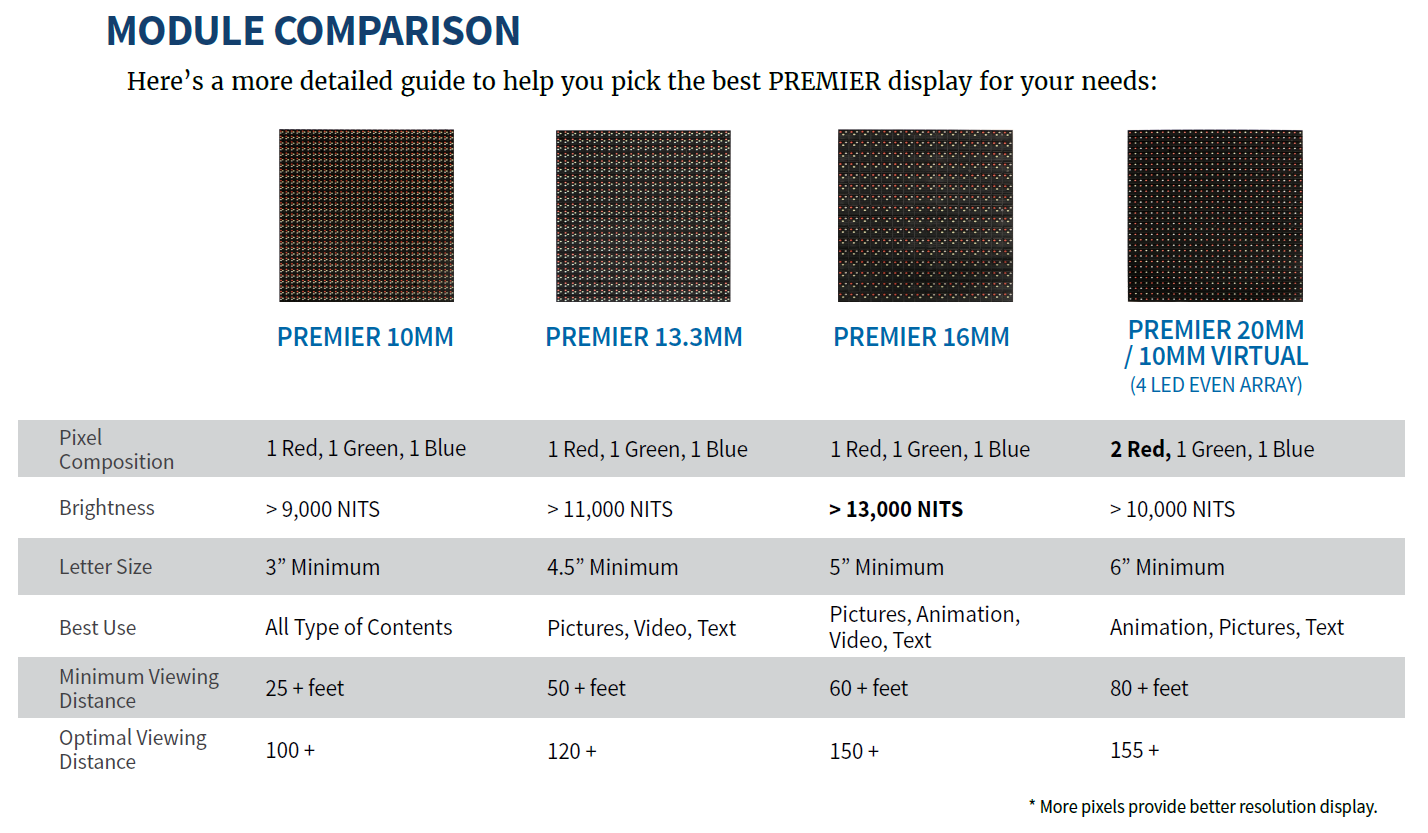 LED Chips (Kinda important since this is an LED Sign)

We use better LED chips which means your sign is designed to ensure long lasting brightness, consume less power for more efficiency, and have a wide viewing angle for longer read times.

High Contrast Modules (making a difference in the smallest of details)
Our module faces are made from the highest quality poly-carbonate, and are engineered to resist warping, cracking and fading in even the harshest weather conditions. The dark matte black finish creates a better contrast for sharper images.
Fully Encapsulated Silicone Modules (Not just made for Toys)

Our modules are IP67 rated in the front and IP65 rated in the back to ensure complete protection from dust, water, and humidity.
All Aluminum Cabinet (Makes Perfect Sense)

Aluminum is lighter than iron cabinets, and it much more effective at resisting corrosion—keeping your sign safe and sound through the years.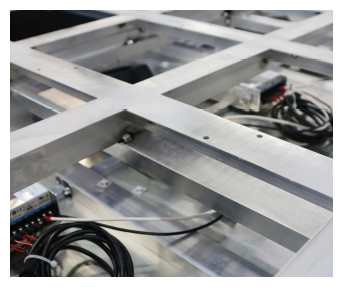 Water (No Thank You)
IP65 Water proof data and power connectors result in increased connectivity and reliability even in the wettest conditions.
Flexibility (Like a Ballerina)

With Premier you'll never be stuck wishing you would have gone with a higher resolution LED display. Whatever pixel pitch you choose now, you can always upgrade later.
Just purchase the new panels, pop off the old ones, and you're good to go.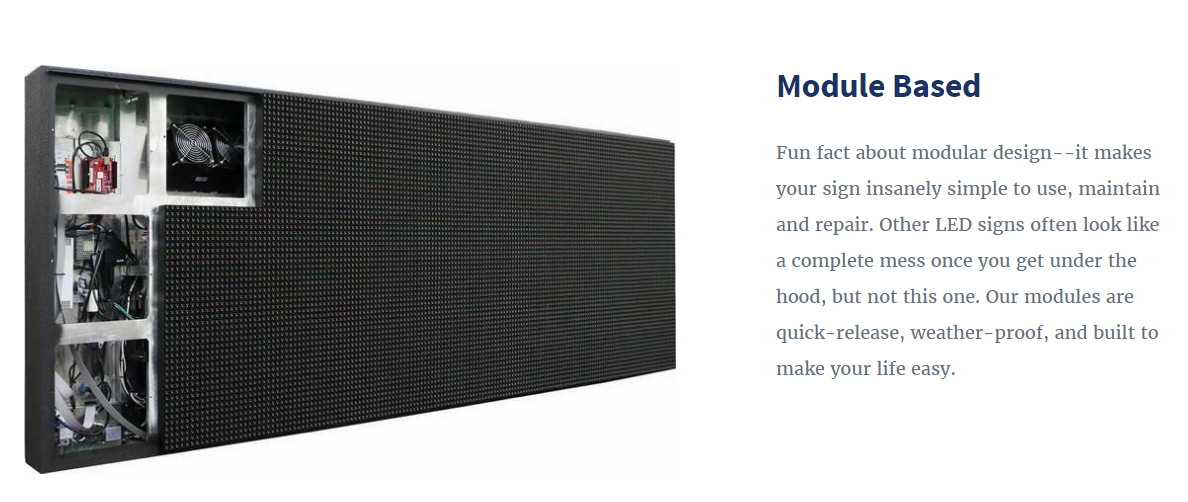 Quick Release Modules (Who doesn't love to save time)
Four Quick release 90° turns with an Allen key to remove or replace our modules, that's it.
Conformal Coated Power Supplies (Say What)

Our Conformal coating extends the life of our power supplies, keeping our signs lit longer than our competitors. They are rated for high heat tolerance up to 140°.
LINE-X Coating (Superior Protection)
LINE-X coatings seal in our signs to keep all the weather outside, where it belongs.
Over-Sized Rain Hoods (No, not an Umbrella)

With 12" tall over-sized rain hoods, rain water doesn't stand a chance to penetrate our cabinets even in a down pour with strong winds.
Protection (Gotta have it)

Built in surge suppressors protect all the sensitive electronic components while EMI filters reduce any potential electromagnetic noise for a trouble-free display.



Warranty (We have a great one)
We stand behind our products.
The Premier Series LED Full Color Outdoor Display comes with a 5 Year Parts & Factory Labor Limited Warranty.
On top of that, we have a 1 Year Field Service Limited Warranty.